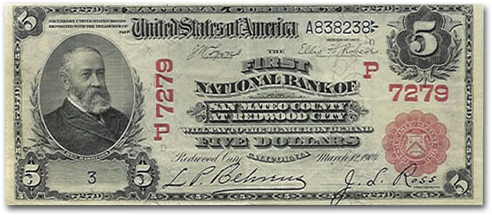 Fall Update
This update includes a relatively small number of notes, but some really interesting, seldom-seen Nationals. A $50 1882 Date Back from Los Angeles leads off the parade, followed by large and small size examples from Santa Cruz, California, a neat New Canaan, Connecticut 1902 note, one of the nicest large size Jacksonville, Florida notes I've seen, a higher grade large size Honolulu $5, a 1902 Leon, Iowa note, the finest known large size note from Limerick, Maine, which features the signature of a female cashier, a high grade 1882 Brown Back $5 from popular Bellevue, Ohio, and an elusive, really appealing, large size example from Lemasters, Pennsylvania.
The selection of type notes is small, but there are a few winners, such as an affordable slabbed Fine $5 1869 Rainbow Note, a couple of Red Seal Federal Reserve Notes, and a more elusive Friedberg number $10 San Francisco Blue Seal. Small size notes are highlighted by an "entry level" $5 San Francisco FRBN, and I even have a Manual Labor Bank "Elvis" note in PCGS 63 PPQ.
Please feel free to make an offer on any item, or suggest a payment plan. If you want a note, I'll do my best to make it happen.
I'm still researching and pricing a bunch of notes that I plan to take to the PCDA Show in November, so please send your want list or check with me if you don't see what you're looking for. I am always interested in buying National Currency! Please contact me if you have National Bank Notes for sale. I'm also an active buyer of large size type.
If a note's entire description is in BOLD, just click anywhere to see a scan of the face. "FACE" and "BACK" notations are, of course, self explanatory. Unfortunately, I do not always have time to scan every note listed on the site. I gladly will e-mail additional scans of any note upon request.
Last Updated: October 30, 2016
William Litt
P.O. Box 221148
Carmel, CA 93922
650-430-2024
BillLitt@aol.com