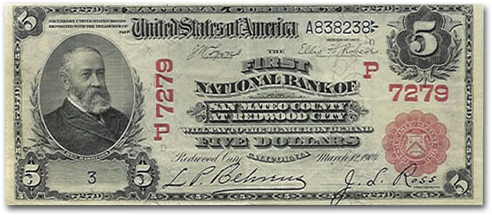 SUMMER SALE CONTINUES!
Hard to believe August is almost over! The currency market is hopping, with many new collectors entering the market.
A few words about my pricing: at first, the pricing of these notes may not seem logical. However, my rationale is as follows. Newly acquired notes, some of which are "out of the weeds" and new to the market, will be priced at what I believe to be reasonable, market-driven levels. Notes that were previously offered have been dramatically discounted to sell now. Keep your eyes peeled for bargains. Just because something seems to be priced "too cheap" doesn't mean the note has hidden problems. I try to describe every note carefully, and offer a 14-day return privilege.
This update features a diverse group of National Bank Notes. A few of my favorite Nationals listed are a 1902 $20 from Anaheim, California, a trophy $5 1882 Brown Back from Freeport, Illinois will bottom selvage -- the first large size note on the bank offered for sale since 1997 -- a 1902 Red Seal from Bloomsburg, Pennsylvania, and a rare 1902 Jefferson City, Tennessee note.
Please send your want list or check with me if you don't see the note or notes for which you're looking. I am always interested in buying National Currency! Please contact me if you have National Bank Notes for sale. I'm also an active buyer of large size type.
If a note's entire description is in BOLD, just click anywhere to see a scan of the face. "FACE" and "BACK" notations are, of course, self explanatory. Unfortunately, I do not have time to scan every note listed on the site. As always, I gladly will e-mail scans of any note upon request.
Last Updated: August 20, 2015
William Litt
P.O. Box 221148
Carmel, CA 93922
650-430-2024
BillLitt@aol.com