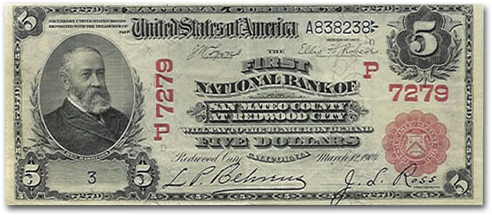 Welcome to my spring website update! The currency market is active, and my last few shows have been outstanding. I'm looking forward to attending the Memphis IPMS in June, hoping it won't be the last IPMS at that location. As difficult as it is to fly into Memphis, that show will forever be "Memphis" in my mind, since the first Memphis Show I attended over 30 years ago!
This update features a diverse group of National Bank Notes and a larger selection of Large Size Type Notes than I usually offer. A few of my favorite Nationals listed are a very low grade but rare 1902 note from the Butte County National Bank of Chico, California, one of only two reported $5 1882 Brown Backs from Princeton, New Jersey, the first 1902 Date Back to surface from Prairie City, Oregon, and an attractive 1902 example from aptly-named West Union, West Virginia.
Please note: I've marked down quite a few prices even further than I did in February. If you've had your eye on a note, it may be cheaper now.
Please send your want list or check with me if you don't see the note or notes for which you're looking. I am always interested in buying National Currency! Please contact me if you have National Bank Notes for sale. I'm also an active buyer of large size type.
Unfortunately, I do not have time to scan every note listed on the site. As always, I gladly will e-mail scans of any note upon request.
Last Updated: April 12, 2015
William Litt
P.O. Box 221148
Carmel, CA 93922
650-430-2024
BillLitt@aol.com