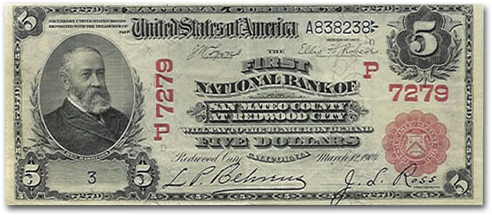 FEBRUARY-MARCH UPDATE
* BUY TWO NOTES, TAKE 15% OFF! *
This update features a variety of new National Bank Notes and a handful of affordable large size type notes. Highlights include 1929 notes from Monterey and Redwood City, California, that have been off the market since 1990, a previously unreported #1 1929 note from the Capital National Bank of Sacramento, nice small size examples from Clearwater and Miami, Florida, a high grade 1902 Raton, New Mexico note, an elusive 1929 example from Morris, New York, scarce 1902 issues from New Castle (Ch. #8503) and Nuremberg, Pennsylvania, an attractive Yardley, Pennsylvania Brown Back, and a rare, newly discovered 1902 $20 from the First National Bank of Ritzville, Washington!
I'm adding more notes to my inventory, and should have them inventoried and priced at the new PCDA Show in Rosemont, Illinois March 3-5. The PCDA has moved its annual show from November to March (same location) and taken over the slot left vacant when CPMX folded. Please stop by my table in March!
REMEMBER: BUY ANY TWO OR MORE NOTES, TAKE 15% OFF THE TOTAL!
Please feel free to make an offer on any item, or suggest a payment plan. If you want a note, I'll do my best to make it happen.
Please send your want list or check with me if you don't see what you're looking for. I am always interested in buying National Currency! Please contact me if you have National Bank Notes for sale. I'm also an active buyer of large size type.
If a note's entire description is in BOLD, just click anywhere to see a scan of the face. "FACE" and "BACK" notations are, of course, self explanatory. Unfortunately, I do not always have time to scan every note listed on the site. I gladly will e-mail additional scans of any note upon request.
Last Updated: February 17, 2017
William Litt
P.O. Box 221148
Carmel, CA 93922
650-430-2024
BillLitt@aol.com