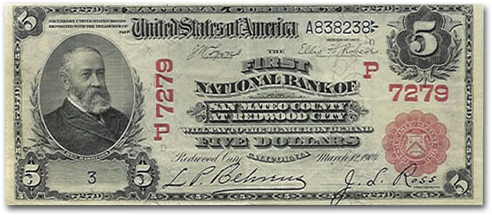 Welcome to my winter website update! I've switched to a new website design that should be compatible with newer browsers like Chrome, as well as smart devices. I've also switched hosts, and my new website designer cleaned all the malware from my old website files.
I'm pleased to offer a diverse group of National Bank Notes from around the country. I sold some of the great western notes featured in my last website update, like Greybull and Mountainhome, but I've acquired many new notes for your consideration, ranging from the finest known 1929 example from Richmond, California, to a tied-for-finest known 1902 Alamosa, Colorado note, to a beautiful and very scarce $5 1882 Date Back from Racine, Wisconsin.
Please send your want list or check with me if you don't see the note or notes for which you're looking. I am always interested in buying National Currency! Please contact me if you have National Bank Notes for sale. I'm also an active buyer of large size type.
Unfortunately, I do not have time to scan every note listed on the site. As always, I gladly will e-mail scans of any note upon request.
Last Updated: December 24, 2014
William Litt
P.O. Box 221148
Carmel, CA 93922
650-430-2024
BillLitt@aol.com