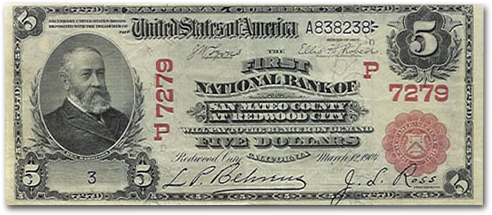 SPRING UPDATE
New additions include the second-finest 1929 National from Placerville, California; higher grade 1902 Iowa examples from Conrad, Havelock, and Independence; a nice VF 1902 $10 from Kalispell. Montana and an even higher grade small size example from Missoula, Montana; three Nevada notes, including the only known Date Back from Ely; a rare 1929 example from Merrick, New York; a rare and very attractive $5 1902 note from Northwood, North Dakota; a Value Back from Ashland, Oregon; A rare Seward, Pennsylvania 1902 note; nice medium-grade "type" $5 Brown Backs from San Francisco and Burlington, VT, a scarcer F-116 Bison, and a high grade F-217 $1 Martha Washington.
I'm working on updating my inventory, and will have many more Nationals and Type Notes available at Lyn Knight's International Paper Money Show (IPMS) in Kansas City, June 13-15 -- please stop by my table!
Please feel free to make an offer on any item, or suggest a payment plan. If you want a note, I'll do my best to make it happen.
Please send your want list or check with me if you don't see what you're looking for. I am always interested in buying National Currency! Please contact me if you have National Bank Notes for sale. I'm also an active buyer of large size type.
If a note's entire description is in BOLD, just click anywhere to see a scan of the face. "FACE" and "BACK" notations are, of course, self explanatory. Unfortunately, I do not always have time to scan every note listed on the site. I gladly will e-mail additional scans of any note upon request.
Last Updated: May 12, 2019
William Litt
P.O. Box 221148
Carmel, CA 93922
650-430-2024
BillLitt@aol.com